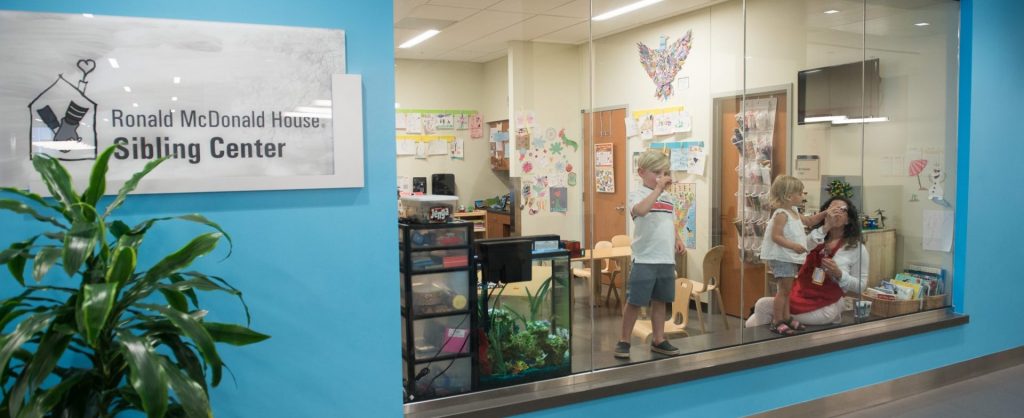 Ronald McDonald House Sibling Center
The RMHC Sibling Center was created to reduce stress and inspire fun by providing a safe, developmentally appropriate environment for brothers and sisters of children receiving care in the Children's Pavilion at Children's Hospital of Richmond at VCU and in nearby inpatient units.
The RMHC Sibling Center allows parents to focus on the care of the patient while the siblings engage in age appropriate play, arts and crafts, and hands on learning opportunities
The center is staffed by team members with advanced degrees in child development, education, or related fields. Our team also includes carefully selected Children's Hospital and RMHC Richmond volunteers.
Availability and Eligibility
The RMHC Sibling Center is open Monday through Friday from 7:45 a.m. to 5 p.m.
The Center is located in the Children's Pavilion on Sky Lobby 1 (1000 E. Broad Street Richmond, VA 23219).
Children must be between 3 and 14 years old, fully potty trained, current on immunizations, and healthy (no signs of cough, fever, diarrhea, or other infectious symptoms)
Reservations are not required but strongly recommended by calling 804-628-5631.
The RMHC Sibling Center may deny admission if maximum capacity has been reached, disciplinary concerns arise, or siblings show infectious symptoms.
You must complete an enrollment form (health checklist and emergency contact form). Forms will need to be updated every 90 days.
We require a government-issued photo ID at the time of sign-in.
You must remain on the hospital campus while children are in the Sibling Center.
You must carry a center pager in case you need to be reached. Parents/guardians who are paged are expected to call and/or return to the center immediately.
If you are interested in enrolling your child, please visit: www.chrichmond.org/rmhc-sibling-center and complete the enrollment form.
Interested in getting involved with our Sibling Center program? Check out how to become a Sibling Center Volunteer or donate items from our Amazon Wish List.