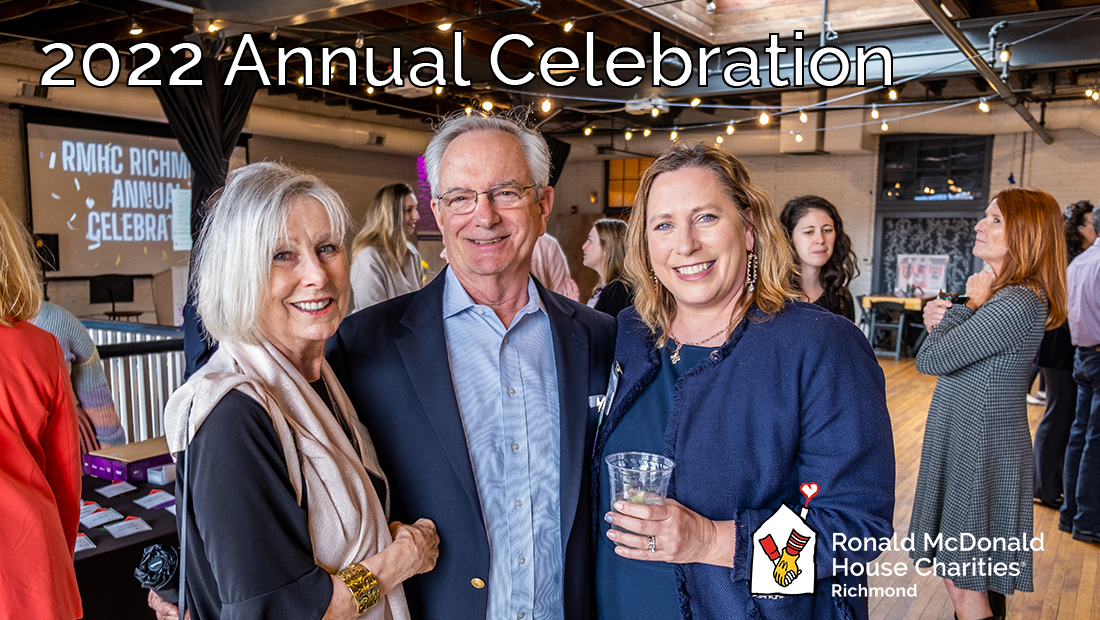 06 Apr

2022 Annual Celebration

On March 31, 2022, Ronald McDonald House Charities (RMHC) of Richmond held our 2022 Annual Celebration.  

A celebration of everything we accomplished together in 2021, the event – held at the historic Hofheimer Building in Scotts Addition in Richmond – served as a thank you to all of the supporters, partners, and volunteers that helped keep families close over the past year.   

2021 was a year of perseverance in which RMHC Richmond had to balance and navigate ever-changing COVID guidelines in the House and in the hospitals. Despite the barriers and limitations faced during the pandemic, we were able to serve more families through our programs.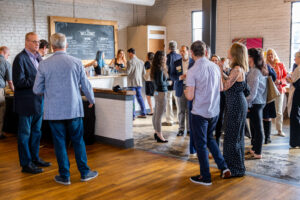 In 2021, we also welcomed volunteers back to share their time and talents with us. RMHC Richmond volunteers offer a cheerful welcome to the families we serve. Volunteers provide warm meals, deliver lunches to hospital units and provide many other comforts to reduce stress for families. 
Individual, corporate, foundation and in-kind giving surpassed $1.6M in 2021 – the most in RMHC Richmond's history. So many exciting things happened in 2021, such as: 
Our Lunches with Love program expanded to support caregivers on the weekends

 

We provided over a thousand nights' sleep at our Ronald McDonald House, in-hospital Ronald McDonald Sleep Rooms and overflow nights in partner hotels

 

Our Laundry Room at the Ronald McDonald House on Monument Avenue was renovated

 
All of this was possible due to the generous support we receive from the community.  
During the event, we recognized the following individuals and organizations for their continued support by presenting the following awards:  
Doug Jeanneret and David Baron from Kids and Clays with RMHC Richmond Executive Director Kerry Blumberg
Community Awareness Award – Kids and Clays 
Kids and Clays coordinates shooting event fundraisers to benefit RMHC chapters around the country. Since 1999, they have helped raise more than $18 million for RMHC chapters. Through our partnership with Kids and Clays, RMHC Richmond raised $70,000 through our inaugural 2021 Sporting Clays Classic!  



Chris Pierson from Rt. 11 Potato Chips
Community Collaborator Award – Route 11 Potato Chips 
Route 11 Potato Chips stepped up to fill a need in 2019. Since then, Route 11 has donated chips on a weekly basis in support of our programs. Route 11 chips are one of the most popular snacks in the Ronald McDonald House, our Family Room spaces, as well as on our Happy Wheels cart.  Their support has totaled over $8,000 to families in the House and in our hospital programs. 



Ruth Prideaux and Paulin Cheatham with Dominion Energy

 
Impact Maker Program Innovation Award – Dominion Energy Charitable Foundation 
For the first time at Children's Hospital of Richmond at VCU, we are able to expand our Lunches with Love program to include service on the weekends. We are grateful for Dominion's $15,000 lead grant in 2021. 
Funds from the Dominion Energy Charitable Foundation are earmarked to purchase more than 1,500 lunches annually, provided by local caterers and restaurants, every weekend of the year. Not only is Dominion Energy Charitable Foundation helping feed families in the hospital, but by working with us to support local small businesses, this program expansion has many benefits. Lunches with Love helps to alleviate the cost and stress of trying to find and fund a meal so the caregivers can direct all of their attention to providing support for their sick or injured child.   



Robin Pope-Moss with

Truist

 
Impact Maker RMHC Richmond Advocate Award – Truist 
Truist teams chose to partner with RMHC Richmond for Lighthouse Grants in 2020 and 2021. Robin Pope-Moss, Truist team member and RMHC Richmond Board Member, has been our advocate in engaging with Truist employees in support of our mission. Projects included painting a room in the House and providing new furniture; providing catered meals for families in the hospital, branded blankets and supplies for Lunches with Love, and so much more.  All told, Truist helped raise more than $19,000 of in-kind support.   
Tressa Melson of the Chippenham NICU

 
Family Centered Care Partner Award for Ronald McDonald House – Chippenham Neonatal Intensive Care Unit (NICU) 
The Family-Centered Care Partner Award for Ronald McDonald House recognizes an individual or team, at any level of employment at a medical facility that RMHC Richmond partners with, who regularly embodies our mission, supports our programs, and serves as a vital advocate.   
We presented the 2021 Family-Centered Care Partner Award for Ronald McDonald House to the Chippenham Neonatal Intensive Care Unit, also known as the NICU. We recognize our partnership with Chippenham Hospital NICU as they have entrusted patient families to RMHC Richmond and substantially increased referrals to support their patients. On behalf of Chippenham NICU, Tressa Melson, NICU Clinical Manager, accepted the award. 



Joe Roberts of Children's Hospital of Richmond at VCU

 
Family Centered Care Partner RMHC In-Hospital Program Award – Joe Roberts 
The Family Centered Care Partner RMHC In-Hospital Program Award recognizes an individual or team who supports one of our many programs that operate inside the hospital, while upholding our mission.  
For the Family Centered Care Partner Award, in Hospital, we recognized Joe Roberts, clinical social worker for the Children's Hospital of Richmond at VCU pediatric intensive care unit [PICU] as a family centered care partner! This past year, Joe advocated for RMHC Richmond, along with our Family Room Manager, to help create, seek approval for and implement our newest program, Flight Comfort Bags.  
In partnership with VCU LifeEvac Critical Care Transport, each child air lifted to CHoR at VCU receives an RMHC Richmond branded comfort bag that contains a small toy, blanket and snack to help alleviate stress during travel.  Without hesitation, Joe consistently recommends and refers families in need to RMHC Richmond.  We can't be successful without this partnership, and we are grateful for your support! 



Kristie Vota, volunteer

 
Individual Volunteer of the Year Award – Kristie Vota 
Kristie began volunteering with RMHC Richmond in the Fall of 2017. Since then, she has provided over 475 hours of her time in support of our mission. Kristie goes above and beyond the call of duty and is a leader on our volunteer team. She not only volunteers at the House but also helps with special events, donates supplies for lunches and is happy to jump in to help with any project.  
Thank you, Kristie, for your dedication to RMHC Richmond! 



Kristen Ryan, Kristan Cole, & Paula English from Cushman & Wakefield | Thalhimer

 
Group Volunteer of the Year Award – Cushman & Wakefield | Thalhimer 
Cushman & Wakefield | Thalhimer employee's efforts were spearheaded by Paula English and Curtis Mummau. Volunteer activities included making fleece blankets, assembling Activity Packs, volunteering for an outdoor clean-up and paint day and collecting pop tops. Thalhimer employees raised $3,060 through their Jeans Day fundraiser, which included a match from the company. In addition, the team collected items from our Wish List to support our daily operations in our House and hospital programs.   
Thanks to Cushman & Wakefield | Thalhimer for their support!  



Elizabeth Plowman, RMHC

Richmond

Staff

 
Van Arnam Staff Excellence Award – Elizabeth Plowman, Operations Manager 
The Van Arnam Excellence Award is awarded annually to one RMHC Richmond staff member who has been nominated by their peers for outstanding service, compassion and teamwork, as well as going above and beyond on a regular basis. 
Elizabeth is recognized by her peers for her compassion to families and willingness to help her teammates. She is kind and organized and always goes above and beyond. She leads with poise and determination in each project she takes on, whether it is a renovation of common spaces, making sure all staff feel appreciated and loved on the Fun Committee or her commitment to Diversity, Equity and Inclusion, ensuring that RMHC is a welcome and equitable place for all.  
Elizabeth, we are grateful for your presence on our team and are thrilled to recognize you for all you do to support our families. 
________________________ 
THANK YOU!  
Thank you to everyone who came out to the Hofheimer to celebrate with us last week! 
It was wonderful to gather in person and celebrate the hard work and dedication of our supporters, partners and volunteers. You make our family-centered programs possible and we look forward to accomplishing even more together this year.  
See more photos from the event below:
2022 Annual Celebration