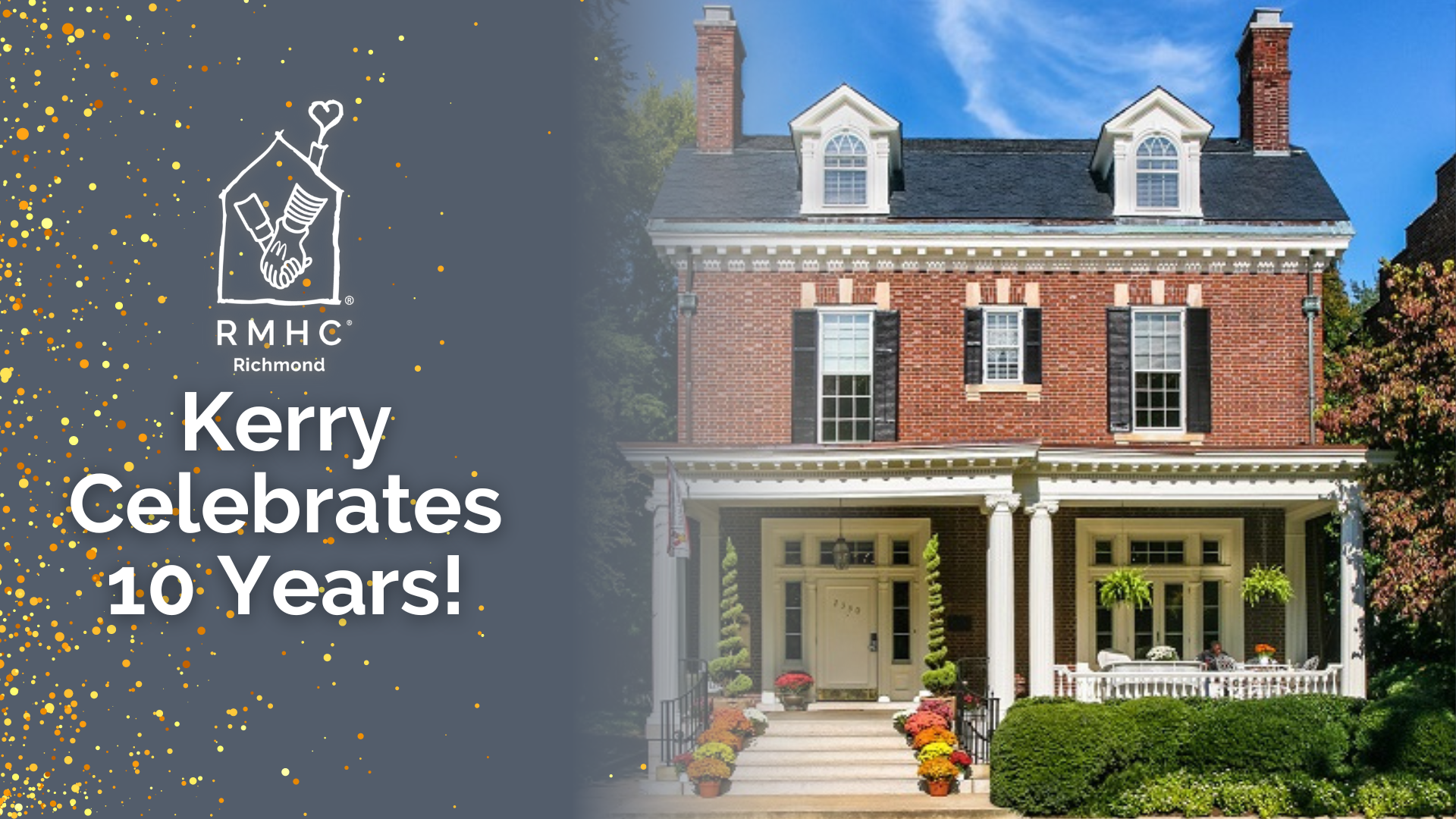 13 Jan

A Very Special Kerry's Corner

Kerry K. Blumberg
Lessons from the field: Ten Years In

Today I celebrate my 10th Anniversary at RMHC Richmond.

There are many milestones of our organization to celebrate during that time. Since 2013, we have gone from 3 full time employees to now 21. 3 in-hospital programs to now 7 (and growing). 1 signature event to now 5. 400 families served to now more than 10,000 annually.

The numbers reflect the tireless efforts of many board members, volunteers, donors, and sponsors.

And what I carry with me, what guides me in service to others, are 10 life lessons that I have learned from the amazing people who make up our community.  
The comfort of a home-cooked meal.
In crisis, families often search for normalcy.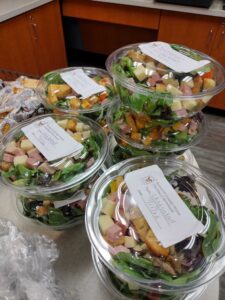 Home-cooked meals prepared by volunteers at our Ronald McDonald House provide a homelike environment and a sense of comfort. The most frequent comment from families as they transition home is "Volunteers cooking meals made me feel cared for – I don't know how I would have had the strength or time to cook for myself."
Inside hospital walls we hear this too. Lunch volunteers come to the Ronald McDonald House on Monument Avenue five days each week to lovingly prepare meals that are delivered to the hospital to meet families where they are. Our volunteers provide nutritious meals for families to keep up their strength and show up bedside as the best caregiver they can be.
Breaking bread together builds community.
Every family we serve is unique, they are on their own journey.
In my tenure at RMHC Richmond, I have seen families form strong and lasting bonds as they share meals in the House or in the hospital setting. On countless occasions, a family has expressed that in their home community they often feel like an outsider because of their child's unique health challenges.
When they come to RMHC Richmond they feel welcomed, accepted, part of the pack. Their journeys are individual, but many walk the same paths and feel comfort together.
Perseverance.
When I reflect on my childhood, my mother's mantra to me was, "If first you don't succeed try, try again."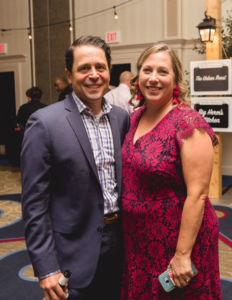 In my role, I have learned to live these words daily in many ways. Encouraging staff to take positive risks and develop new processes or ways of thinking. I love design thinking and have been known on more than one occasion to ask staff to look at a challenge with the desired result in mind and work backwards. The first answer may not be the best answer, but if we persevere, we can find the best solution.
Answers do not always come easily – we must dig and explore, and sometimes you can go far down a path before realizing you need to branch out or make a U-turn. Do not be afraid to do so, lessons that you learn on the way will lead you to future success. Thanks, Mom!
If you build it, they will come.
Strategic planning is my jam!
I was fortunate to participate in an Emerging Non-profit Leaders program through The Community Foundation in 2012. Wally Stettinius led a class on strategic planning and lit a fire within me. As a life-long puzzler, the idea of building piece by piece over time made sense. I was so fortunate that Mark Every served as Vice President of our board when I started at RMHC Richmond. A strategic planning genius, together we, and a committee of dedicated folks, created a path forward for RMHC.
Our organization had stagnated, happy with the status quo of serving a small number of families within our House on Monument Avenue. Building a foundation in the first few years to have a workable, living plan that shaped our actions, we moved forward. These plans brought tremendous gains in our community engagement, fundraising, but most importantly our shift in program delivery to bring our services into hospital spaces leading to serving an average of 400 families annually to 10,000+ in 2022.
Thank you, Wally, Mark, and many others for showing me the way!
Love is Diverse and knows no economic boundaries.
On any day, in any program space we see love.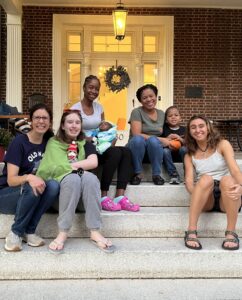 The families we serve are diverse – diverse in their home geography, diverse in their age, nationality, family make-up and economic status, but they all have one thing in common. LOVE – they love their children fiercely and will do anything to see that they receive the best medical care and support.
This simple fact inspires our team daily. The families we serve face time off work, travel expenses, restless nights of worrying and growing medical debt; they often see stress on their personal relationships and feel isolated. At RMHC we do our best to lighten these burdens so that LOVE and caregiving can shine through to help healing happen – after all, we are the House that Love Built!
When feeling isolated and stressed, a smile, cool wash cloth and a tissue can go a long way to help someone.
This tip was shared by a hospital Chaplain with our staff in my first year.  We learned to navigate supporting families while also keeping boundaries – knowing that we are a witness to their journey, here to support. These simple tools are magical, and I see myself using them in my personal life, with my son, family, friends, and co-workers.
At the end of the day, these simple gestures let someone know that they are not alone and that they are loved.
Generosity from the Richmond Community and amplification through our Global office brings an Army of Support.
Every day I am in awe of our community – locally and globally.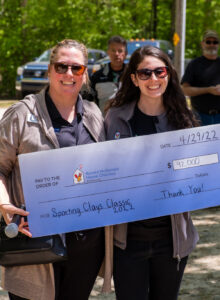 The Richmond metro community is the single biggest factor in our organizational growth. Each time we present new opportunities for volunteer engagement, funding, and leadership the community rises to the occasion. In 2023, we will have more than 200 + hours of volunteer service each week!
Globally, we see this support from our founding mission partner McDonald's – the Round Up platform they provide for facilitated giving and their network of national sponsors help us serve more families each day.
A team rowing in the same direction can accomplish anything.
I love our incredible team.
I recently sat down with each staff member to ask them six questions about RMHC, why they stay, what challenges they see, what makes them feel valued, etc.
The one unifying answer is that our mission is the reason they stay. Our mission of supporting families during hospitalization is clear. It, partnered with love, drives our work each day. The collaborative spirit of rowing together toward our vision for the future guides us together.
No need to reinvent the wheel!
No doubt about it – the creation of an idea, process or product from scratch feels amazing; however, there is not always time for that in every circumstance.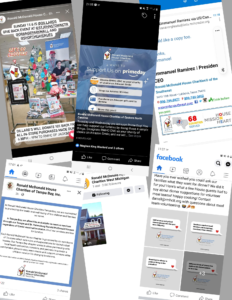 My Colleagues throughout our RMHC Global network of 382 chapters are my inspiration and I learn from them daily. My team teases me that my legacy will be leadership lessons in screenshots. I feel so honored to be part of an international network of Ronald McDonald House Charities Chapters. This resource amplifies our brain power in Richmond. I see what other chapters get right and follow these best practices in Richmond. Staff regularly receive social media screenshots from me highlighting the work of other chapters from which we can learn.
Mentors change lives and make people stronger.
I have had many mentors throughout my career, but during the last ten years, two mentors have really stood out.
Former McDonald's Owner Operator Sue Durlak and John Kemper. John lists himself as a community advisor after a strong career in healthcare construction and design, I think he must have been a professional jedi. Both continue to mentor me on business, leadership, project management and weathering outside collaboration and construction. I am so thankful for all that they pour into me and hope that as I enter the next 10 years of my career I can one day be as helpful to an emerging leader.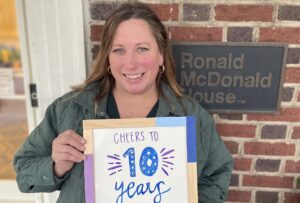 And as RMHC Richmond looks forward, set to open its most significant new facility since 1980 this year, I am genuinely grateful.
Grateful for all that I have learned and for the passion, generosity, kindness and drive of all who have worked with and supported us throughout this journey. You have provided unbelievable gifts that allow me to serve others and your love knows no bounds.
Thank you,
Kerry Blumberg
Executive Director